Mon. – Thurs. | 9 A.M. – 7 P.M. 
Friday | 9 A.M. – 5 P.M.
Saturday | 9 A.M. – 12 P.M.
Please call us during open hours if you have any questions, want to place a hold on a book or renew a book. If we miss your call we will get back to you shortly or the following day. Outside of open hours you can email us at [email protected].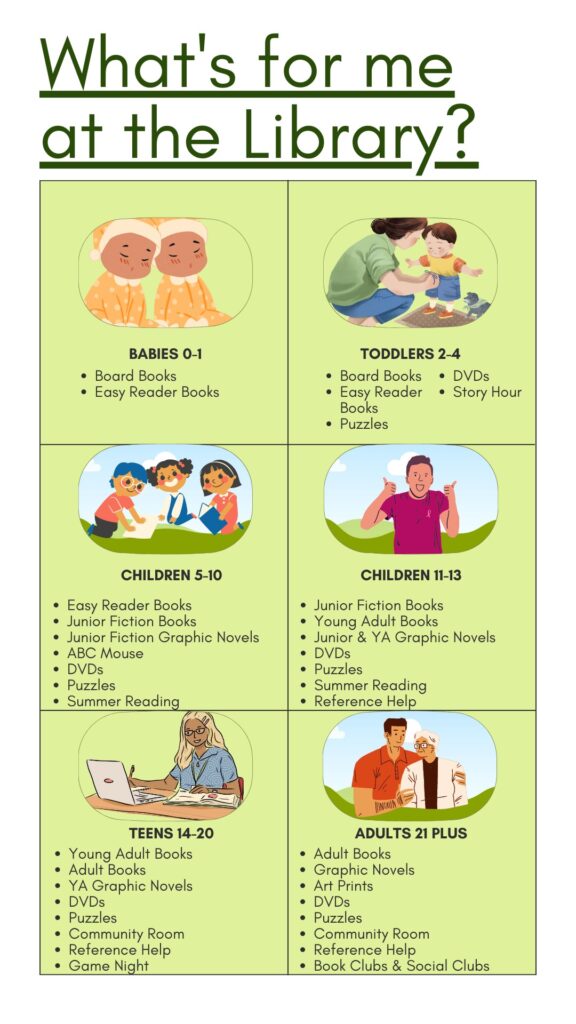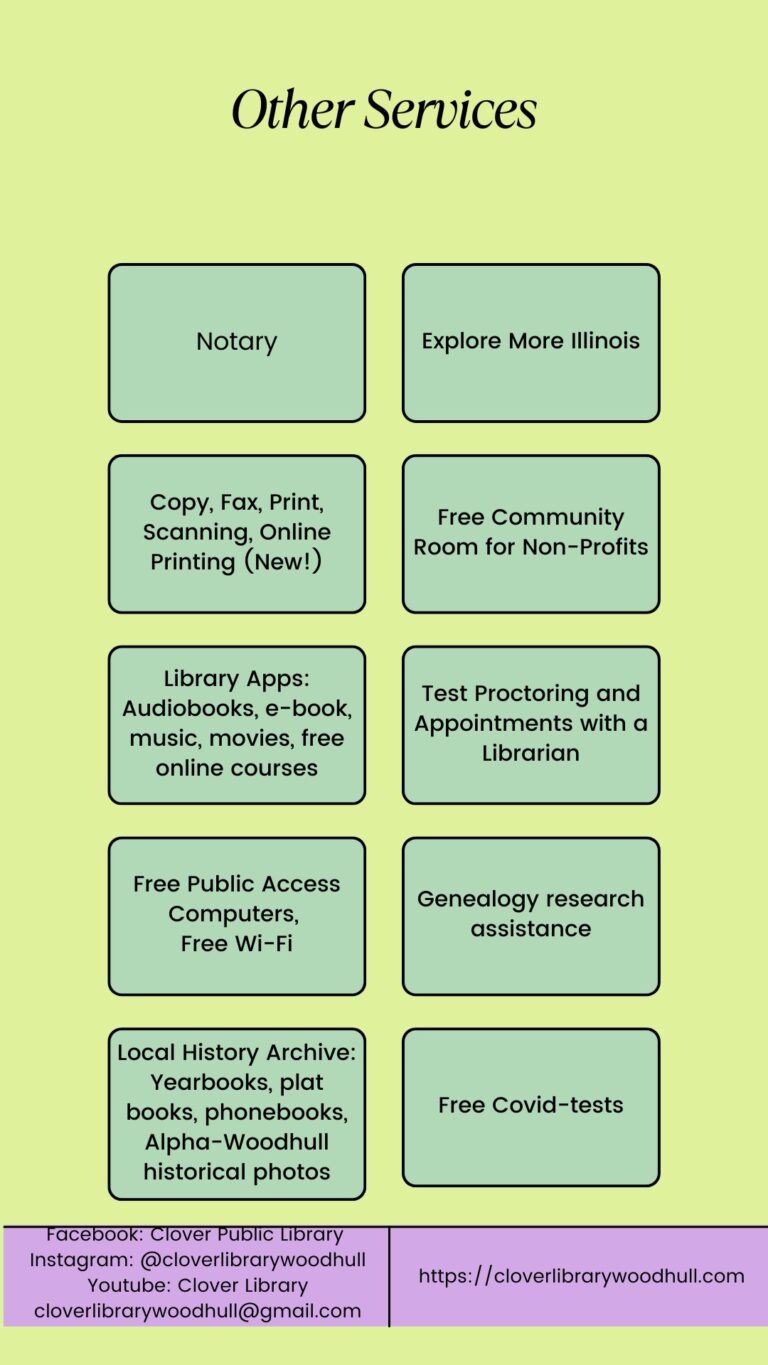 The Library has two public computers set up with Microsoft Office so you can use Word, PowerPoint, Excel, and other Microsoft apps. You must let a staff member know that you will be using the computer. Users may book up to 1 hour for homework on the hour. Users must be 8 years or older to use the computer on their own, younger children must be accompanied by an adult. 
We now offer online printing! If you would like to send us a copy of your print job follow this link to our form. Please allow us 5-10 minutes after you have submitted this form to pick up your print job.
Copies and any printed pages are $.20 each
Faxes are $2.00 for the first page, $1.00 each page after that. 
CASH ONLY!
If you live in the AlWood School District you qualify for a free Library Card! Check with library staff to see if your address qualifies. Library Card forms are available in person at the front desk! If you are signing up in person please bring your Driver's license or Identification card. If you are 15 or younger please come in with your parent or guardian.  
Replacement Card for Residents
The replacement fee is $5.00
Non-Resident Card
If your home address is outside of the Woodhull town limits, and you do not have a library card with any nearby libraries you may purchase a non-resident card. Resident cards are available free of charge to patrons who live in Woodhull since they pay in through taxes. However, The fee for a non-resident card is $174.47 annually. This fee is calculated by dividing the total local property tax revenue (excluding state and federal funds) by the local population (using the most recent federal census information available). This number is multiplied by the average number of persons per local household. This is the fee charged to all nonresidents when purchasing a library card. 
Fine Free Library 
We continue to be a fine free library! There are no fines for late books or other items. Keep your pennies, but don't keep our books!
Rental Periods
DVD – 7 day checkout, no deposit required!
Art Prints – 3 months 
All other materials – 3 weeks
Cost to replace Books
The cost for lost or damaged books varies, plus a $5.00 processing fee. 
DVD/CD disk cleaning
$1.00 for DVDs/CDs that do not belong to the library. 
Director
Rene Bramlett
Librarian
P. Denise Dimmitt
Library Staff
Nikki Hillier, Library Clerk 
Linda Kiely, Library Clerk 
Kari Quintana, Library Clerk
Chris Youngren, Custodian
Library Board Members
Rene Bramlett, Library Director
Patty Colburn, President
Pamela S. Eiker, Treasurer
Breanna McLaughlin, Secretary
Alissa Gelaude, Trustee
Tonya Williams, Trustee
Hannah Garrett, Trustee
History of the Clover Public Library District Free public library service was unavailable to the Woodhull community before 1937, other than school and church libraries. The Women's Christian Temperance Union (W.C.T.U.) sponsored an Association Library on June 30, 1937. The library was housed in the private home of two sisters, the Misses Maud and Martha Cain; with Martha as librarian. The budget at that time was $100.00 per year plus gifts. Both sisters became ill in January 1965 and had to leave their home. Finding it necessary to move the library to other premises a series of town meetings were called and representatives of various organizations formed a committe and rend the former Farmers State Bank building. On May 1, 1965 the library reopened with Miss Frances Rehn as librarian. It continued as an Associate library run on donations until July 17, 1965 when the Township voted in favor of forming a Township library. From July 1965 to November 1976 the library collection grew from 3000 to 9700 volumes. In July 1965 the board voted to join the Western Illinois Film Cooperative which in now the Alliance Library System. Frances Rehn resigned in 1978 and Mrs. Coralie Null became head librarian and remained head librarian until her retirement in May 1995. Rene Bramlett has held the position since. The year 1978 was a very special year for the Clover Township library as it was then the library board was approached with an offer to build and furnish a brand new Township library. The Woodhull Women's Christian Temperance Union decided to disband and dispose of some property near Kewanee, Illinois which they owned; using the money from the sale to build our present library. After two years in first the talking then the building stages; the new library was ready to move into the new location at 440 N. Division St. the last week of January 1980. The old library was closed for two weeks while the transfer took place and our new library opened it's doors. Open house took place May 4, 1980 with many visitors touring the facility. Since then our collection continues to grow along with our circulation and hours. Mrs. Mieneer gave the library a beautiful grandfathers' clock in memory of her three sisters who were teachers many years ago in the Woodhull area. The clock was delivered and set up in time for the open house. During Woodhull's Quasquicentennial in 1982 the new library displayed much of the Woodhull area history plus arts and crafts of the residents' quilts from the late 1800's to 1982 were also on display. Because the new library is both beautiful and air conditioned it was a very busy place during the Quasquicentennial which took place during a very hot July week. Since then the Jaycees have given the library a television set and VCR on which the public can view tapes of all the Quasquicentennial activities from first to last; the tapes also were donated by the Jaycees. The library now has a lovely community room that is used for Story Hours and the Summer Reading Program. It is also used by various other community groups on a regular basis. The room can be reserved and used by any non-profit organization with no charge if they are in the AlWood School District.