The Library has two public computers set up with Microsoft Office so you can use Word, PowerPoint, Excel, and other Microsoft apps. You must let a staff member know that you will be using the computer. Users may book up to 1 hour for homework on the hour. Users must be 8 years or older to use the computer on their own, younger children must be accompanied by an adult. 
Copies and any printed pages are $.20 each
Faxes are $2.00 for the first page, $1.00 each page after that.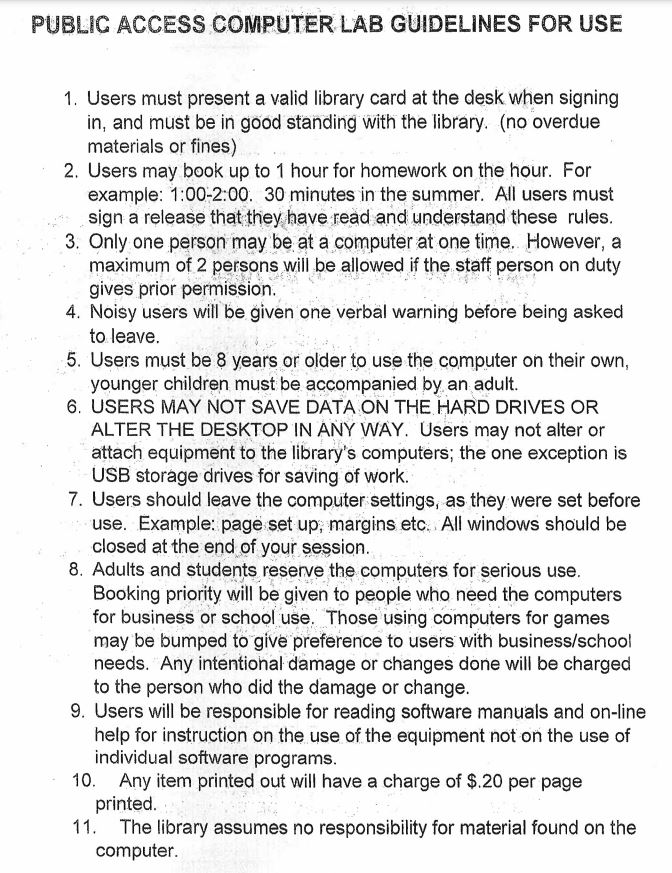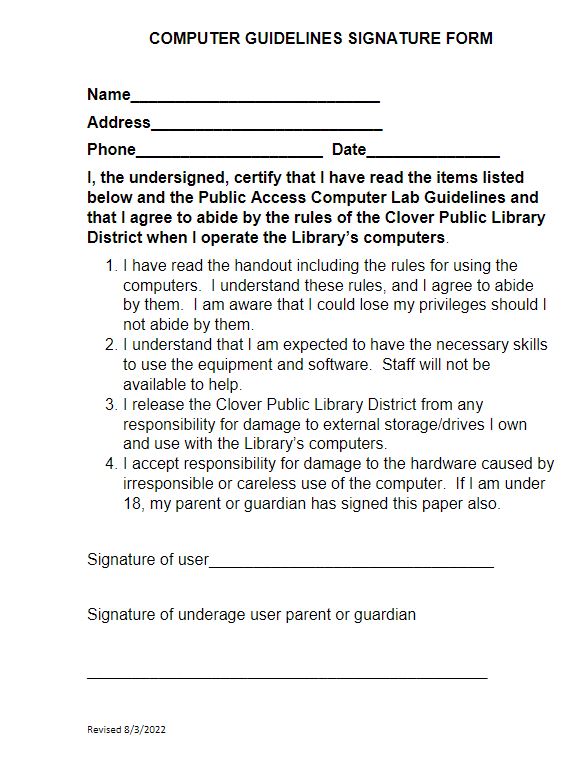 Library Cards, Borrowing & Charges​
If you live in Woodhull you qualify for a free Library Card! Check with library staff to see if your address qualifies. Library Card forms are available in person at the front desk! If you are signing up in person please bring your Driver's license or Identification card. If you are 15 or younger please come in with your parent or guardian. 
You can also register for a library card at the bottom of this page (This is a new format we are testing out, please email or call the library if there are issues with the online form. Thank you!) Once we receive your application, you'll receive a confirmation email and we will notify you when you can come pick up your library card. 
Replacement Card for Residents
The replacement fee is $5.00
Non-Resident Card
If your home address is outside of the Woodhull town limits, and you do not have a library card with any nearby libraries you may purchase a non-resident card. Resident cards are available free of charge to patrons who live in Woodhull since they pay in through taxes. However, The fee for a non-resident card is $174.47 annually. This fee is calculated by dividing the total local property tax revenue (excluding state and federal funds) by the local population (using the most recent federal census information available). This number is multiplied by the average number of persons per local household. This is the fee charged to all nonresidents when purchasing a library card. 
Fine Free Library 
We continue to be a fine free library! There are no fines for late books or other items. Keep your pennies, but don't keep our books!
Rental Periods
DVD – 7 day checkout, no deposit required!
Art Prints – 3 months 
All other materials – 3 weeks
Cost to replace Books
The cost for lost or damaged books varies, plus a $5.00 processing fee. 
DVD/CD disk cleaning
$1.00 for DVDs/CDs that do not belong to the library.